Francisco Monteverde, CEO
Francisco is in charge of company's strategy, growth, profitability and day to day operations.
He has more than 20 years experience, including leadership positions in sales and marketing at Microsoft, Sun Microsystems, and HP.
He enjoys connecting with and listening to our customers and partners. When a client has a question or concern about our product, he gets involved in finding a solution for them, even in complex matters such as a DVCS!
His passion is to serve our customers and partners better than anyone else in the market.
Francisco is Telecommunication Engineer for the Universidad Politécnica de Madrid and has a management grade in the IESE, Madrid (PDD-1998).
Francisco loves diving, playing golf and travelling to know new cultures.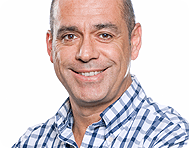 Pablo Santos, Founder and President
Prior to entering start-up mode to launch Codice Software and Plastic SCM back in 2005, Pablo worked as R&D engineer in fleet control software development (GMV, Spain) and later digital television software stack (Sony, Belgium). Then he moved to a project management position (GCC, Spain) leading the evolution of an ERP software package for industrial companies.
During these years he became an expert in version control and software configuration management working as consultant and participating in several events as speaker.
Pablo founded Codice Software in 2005 and since then he played several roles ranging from core engineering to marketing, business development, advertising and sales operations. He secured an initial VC round in 2009.
Since Kiko joined the company, Pablo focused on his role as chief engineer (design and development of Plastic 5.x and SemanticMerge), although he is heavily involved in marketing and key sales operations.
Pablo contributes as technical evangelist, speaker on software events, and occasional writer on different technical magazines.
Back in 2004 Pablo joined the regional professional association of computing engineers as vice president and was elected president in 2008, position he still holds.
Pablo was an associate professor in the University of Burgos (2006-2011), where he was involved in the training of young engineers teaching project management, agile and SCM.
Pablo got his Master Degree in Computing Engineering back in 2000 (University of Valladolid, Spain).
He has a deep passion for software development but when not coding or designing new features he loves motor-bikes, especially track days, but including long touring trips.